Cheers for your rapid replies and quick turn around. The little one that recieved one of the bumper jars for his birthday loved it, and my son is having a ball in the bath. He can't wait to get in with his sprudels and bath beans! Infact I'm keeping an eye on your site for as soon as you have more sprudels in stock.
Shelley
---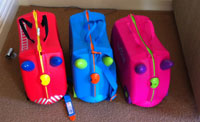 Too cute!
Perfect size for our weekend trips to the bach.
Glad we got them for the kids.
Stops me overpacking too...
Jennifer P
---
I just wanted to thank you. I live in London but have nieces and nephews in NZ and I loved your website and I found it all so easy. I really appreciate the emails that I have received to make me comfortable about my purchase and overall you have made such a good impression that not only will I be using you again but I will be recommending you. Thank you - good service is often hard to come by.
Naomi H, London
---
We received the Bug in a Rug and love it. It is so easy to just put our son in it and take him out in the pram. We no longer have to put him in a million layers which takes ages to put on.
Thanks, Suzanne
---
I just wanted to send you a quick message to say a BIG thank you for the bath beans and sprudels; we had one happy boy today... he absolutely loved them!! They were meant to be for stocking fillers, but after Sophie found them last week, we didn't want to blow Santa's cover and decided to give them to Josh as a wee gift on Sophie's birthday today. The bath beans and sprudels are just fantastic!!!!
We will definitely be back!
Thanks again, Cathryn
---
Thanks so much... I absolutely love the Trunki and I know my little man will too!
Thanks for the great service.
Cheers, Naomi
---
I just wanted to let you know that I received my hammock just over a week ago and I absolutely love it! Thank you so much for all your hard work and anguish over the Miyo ordeal. I am over the moon about this hammock though and am glad in the end that this is the one I got, so thank you. Another girl I recommended to you said she went with the Natures Sway as well and I'm waiting to hear back how she likes hers =) Anyway, thanks again and good luck with your business!
Sincerely, Jennie
---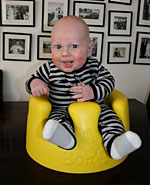 Our Bumbo arrived today! Yay... Mack loves it already and I love the yellow! I just wanted to say thank you for the awesome service... I have blogged about it and your biz today, and I will continue to spread the word about your fantastic service! Keep up the good work.
Angie
---
Our Trunki arrived first thing this morning, awesome service. Our wee girl has been riding around the living room already! Many thanks.
Bruce, Dawn & Lily
---
Hi Rachael - just received the bumbo. Thanks so much for great communication and great service. Have already recommended your website/company to a couple of people due to the way you run your business.
Fantastic! Anne-Marie
---
The sprudels were so successful there were tears when the plug was pulled out!!! Yet to try the beans!
Cheers, Tessa Larsen, Mini Merino kids clothing
---
I received my MIYO hammock today and am sooo pleased with this purchase. Thank you very much for a quick n easy, pleasant transaction! I wish you every success for your business!
Kind regards, Mel Solecki
---
Hi there,
I was so excited to get the email about the Bath Beans as friends of my daughters had some which they had got in South Africa and my daughter was mad for them. Two days later I got your email and my daughter was thrilled after being told we couldn't just go out and buy them we could get some sent to us!
Many thanks, Novia Mead
---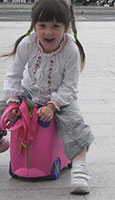 We used the trunkie we bought from you for a trip to England, it was great! Many interested looks and comments.
It helped connections no end! a lot of fun was had by Ambie, it also saved her legs. We were transferring through Singapore and came across a a flock of 3 other trunkies in one family. The ensuing race was a huge amount of fun for the kids and turned a fair few heads :-)
There were a couple of mishaps (generally getting too confident ;-), no permanent damage though. Unfortunatly one of the hooks which the strap clips on to broke on the way back, these could do with being stronger. The trunkie could also do with an alternate handle, it is a tad unweildy to pick up when needed.
James
---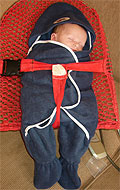 Theo in his bug in a rug.
" We have loved it as he can wear it in his car seat, bouncinette and buggy...... "


Jackie

---
UK order -
Hi,
Just wanted to let you know I received my bag today and I love it! Thanks for the efficient service- better than most online UK based stores!
Sian and Layla
---
Just emailing to let you know that I've received the Babylegs :) They're fantastic! :) Thank you so much for all your help and patience in dealing with my requests and finalizing my order :) You've been fantastic :) I truly appreciate it :)
Sincerely, Phylicia :)
---
Sorry about the delayed email, I just wanted to thank you so much for the great little leggings you sent out with my amber necklace order. I think that they are so cute, and it was such a lovely surprise! Thank you for wonderful service yet again!
Best regards, Wendy
---
Thank you so much for the awesome OiOi bag. I just love it. Hope you get some response from the pamphlets around Oamaru. Look forward to dealing with you again soon. Sorry I tried to place feedback but unsure how.
Tanya, Oamaru
---
Just wanted to thank you for your awesome customer service and fast delivery. It was quite a struggle to keep my wee girl's vegemite covered hands away from her new nightlight when it arrived first thing this morning! And by crikey is it cute! Thanks!
Sarah
---
Absolute love at first sight with my new OI OI bag!!!
Can't rate your products & service high enough!!
Will be back again & again & always recommending your sight to friends & family!
You are a godsend of quality & originality of kids products! Thank You!
Tracy
---
Hi Rachael!

Just wanted to let you know that I received my Oi Oi bag today that I'd ordered! It's gorgeous!!! I love it! And I am so glad I waited till the new stuff came out!
Trista
---
Hi Rachael
We are just back from Dubai and I just want to say what a great product "Terrence the Trunki" is. Charlie (4 years) rename his bag Toby. Toby was a lifesaver for me travelling longhaul with a little one. Toby had multiple uses - he was ridden on at great speed around the airport, towed behind me with Charlie on top when we had long distances to cover, a seat when legs were tired, and last but not least a groovy hard wearing bag which we could take on the plane containing all of Charlie's treasures!
Thanks, Sheree
---
Hi Rachael,
Got the baby bag today - it is awesome! My 7 year old said "O mum it's beautiful" which coming from him who doesn't like "girly stuff", only rugby stuff, is quite an endorsement!
Thanks heaps - can't wait to use it when out and about when baby finally comes.
Fee :-)

---
Hello Rachael,
Just wanted to thank you for saving the day. The t-shirt arrived the next-day, fit perfectly and looked great for the party theme. Thank you so much for your great service!
Kennedee Jeffs
---
Received the Bumbo thanks heaps! Have had lots of comments already and my daughter loves it, I'm going to recommend your site to all my friends. I look forward to buying more of your great products in the future.
Thanks Ali and Emily
---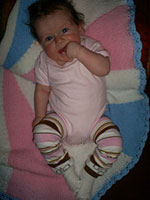 Hi there
Either rainbow or Anenome, just love em... take a look at Drew with them on.
Cheers Lee






---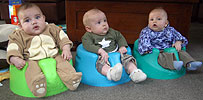 Hi Rachael
Thanks so much for going out of your way to deliver the bumbo seat to me. Its great. I have attached a picture of the bubs in there bumbo seats...
Thanks again Sera


---
I have received the bag. Thank you very much. It is great and your quick delivery was brilliant. I think your website is really good and will be making more purchases off it once the baby arrives and I figure out exactly what I need. Thanks again.
Stephanie
---
Just to let you know the bag arrived safe and sound and is fantastic. Thanks for your wonderful service.
Terri, Whangarei
---
Thank you for the peanut shell. It fits well and Hanna loves it. :) Cheers.
Katie
---
I received my OiOibaby bag a few days ago, and just wanted to say how great it is! The quality is amazing,it looks beautiful, and is so well designed.Im so happy I made the purchase! I had never ordered on the internet before, but it was so simple and straightforward. Thanks again!
Jasmine
---
Thanks heaps. My Shanghai Mummy Bag arrived in time for my birthday. I really like it and was impressed by your quick and efficient service and will not hesitate to recommend you to anybody who is having a baby.
Thanks once again.
Wendy.
---
Hi team. Just a quick note to tell you we LOVE the little shirt. It looks fantastic. Thanks so much.
Rachel, Chris and Rose, Hamilton
---
Thanks for being so great, my bag arrived safely yesterday and I have to say - I do love it!
Thanks heaps.
Jane
---
THANKS for your excellent Customer Service - I have already passed your website details onto numerous friends saying they must check you out.
Regards, Kirsten
---
Just wanted to say "thanks" for being so efficient yesterday, it was great dealing with you. My sister-in-law loved the bag when I gave it to her!
Regards, Ariane
---
I just wanted to say that I received my two t-shirts yesterday in the mail and they are lovely; thank you. The service was great, I never expected them this quickly. "My little monkey" will look fabulous in his new monkey t-shirts.........
Thanks again, Joanne
---
Thanks so much for the gorgeous dressing gown and Dou Dou Millie, my niece just thought they were great for her birthday. I love your website and can't wait to see more of your products as they come online, please keep me posted.
Thanks, Sarah :)
---
My baby vests arrived and I just love them, my little boy looks so cute in them, and I love the fact they are soft next to his skin.
Cheers, Cheryl
---
Thanks for the Oi Oi Bag it arrived safe and sound last week, I have already had ton's of comments from other mums so have given out your web address!
Congratulations on a great business!!!!!
Debbie
---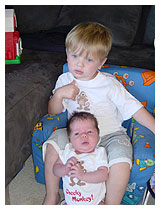 Hi Rachael
You may remember that I ordered a bunch of stuff from you some months ago. Some of it was for presents and some of it was for my own family.
I gave birth to my daughter Eve three and a half weeks ago and here she is with her brother Elliott (he's two) watching Hi-5, and both sporting their Cheeky Monkey T's!! I will be ordering again soon. I love that the cotton is nice and soft - particularly for Eve as she is still so little.
Thanks heaps.
Suzy Whitelegg, www.petcompany.co.nz, Tel: 09 413 9008